Last week we had Amy being clever (and likeable), Rory & his Dad being utterly adorable, the Doctor being quite endearingly annoying, Queen Nefertiti acting like a Benny Hill girl (either that or the Doctor had sprayed himself with Lynx), David Bradley being a really boo-worthy baddy and muthaclunking Dinosaurs on a muthaclunking Spaceship.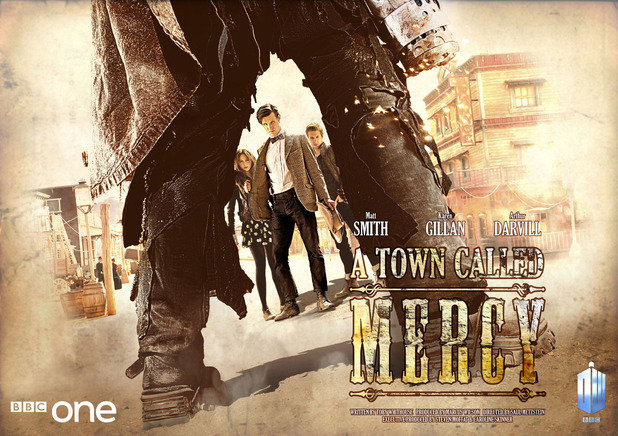 It has been so far so good this series…
What have we got in store in A Town Called Mercy?
Before I start – dear Programmer makes – it's really not easily for me to try a "funny" recap if you're going to carry on producing entertaining, serviceable episodes. Can't you do something controversial / annoying like have Rory get off with River, or have the Doctor only talk in rhymey-wimey rhymes, it makes it so much easier for me.
PRE-CREDITS
"When ah was a chile…" some woman with a very OTT southern accent is telling us about the story of some man from the past who "fell from the stars" – I wonder who it could be?
(BTW – Vivien Leigh's tip for doing a good Southern accent was to practise saying "A Four Door Ford".  Go on try it – she won two Oscars.
I digress.
There's an angsty scene with what looks like a space ship crashing in the desert and a Yul Brynner in Westworld / Arnie in the The Terminator / Kryton in Red Dwarf  thing terminating some bloke who is begging for mercy.
"Am I the last one?"  asks the bloke and Arnie (as he shall henceforth be known) replies, portentously
"There's one more – the DOC-TOR"
Oooh er.
(I think there might have been another bit here, but iPlayer is being a pain….)
CREDITS
The Doctor, Amy and Rory are in Spain doubling, as is traditional, for the Wild West, at a strange town in the desert with signs telling people to keep out and weird stones ringing the exit. The Doctor sonics them and says…
…they're just ordinary stones.  But he lies, remember….oh hang on, actually they are just ordinary stones – BORING – next!
This is better
It's Arnie and he is scary. He's watching with them his Daleky eye go into the town, ignoring the Keep Out signs – which the Doctor explains he sees as advisory, like "Dry Clean only".
(You would think a fan of tweed jackets would take more care really. I suppose he gets a woman to do his washing for him! Sorry, I've been reading some feminist analysis of Doctor Who this week, some Angry Feminism might creep in here and there).
It's a proper Wild West town – do they keep the sets in Spain up permanently in case some film crew comes passing by?
It's just your typical Spaghetti (Paella?) Western town, locals cowering suspiciously in cowboy hats and bonnets, a church, a saloon.  Oh and electricity!
Which is not quite normal.  So, of they pop to investigate (and if I'm missing things, or sounding crabby, it's because bloody iPlayer keeps sticking then jumping….) in the saloon where the Doctor asks for Tea (LOLs) and chews on a matchstick in a Clint Eastwood parody.
He is served by this woman, who…
…some fans think looks like River.  Actually one specific fan wrote on a forum "I don't know if she's a woman or a whore".  I'm not making that up, it is an actual quote. I'm going count how many lines she gets! (I think she has one line, as well as some screaming.)
It's quite amusing except I'm rather tense throughout that Matt Smith is actually going to impale the roof of his mouth with the match-stick – that's the kind of tension I expect from this show.
And the Western Stock Character townspeople (or more specifically the MENFOLK) drinking in the saloon are all suspicious of him and the undertaker starts sizing up the Doctor for his coffin.
Next the Doctor is being held at gunpoint by the Stock Characters at the town limits – but Arne is heading towards them. Eeeek.
So this guy…
 …who turns out to be the Marshall takes over by firing a gunshot to warn Arnie / the Stock Characters off (I was enjoying this when I first watched it, but it's tedious to describe, so I may have simplified a bit).
Then he takes the Tardis team to the jail. Here he expositions that Arnie shoots people who cross the line (I mean literally) and is after killing the "Alien Doctor".
Small world and that.
Amy asks why anyone would want to kill the Doctor then snarks "unless they've met you"…
…because Amy & Rory's storyline this series is that they are so OVAH the Doctor.  As their faces really illustrate here.
Rory looks like he's telling the Doctor that he's really, really sick of how he leaves the milk out of the fridge overnight all the time and how he wipes his dirty hands on the bathroom towels. And Amy is thinking of asking just what the hell he had been eating that day when something disgusting took ages to be flushed down the toilet.  Ah, toilet humour – at last I've found a way to have fun with this episode!
I digress.  Again.
The Doctor sherlocks that he isn't the Alien Doctor being hunted down and that there's another one – here in this jail.  He also refers to this other Doctor as HE…did he not learn anything from Martha Jones – Doctors can be wimmin you know, you Male Chauvinist Timelord.
And it's this guy (yes, it is a MAN!) and he is THE DOCTOR!
His name is Kahler Jex. Thank you Toby Whithouse for giving him a short surname!
Apparently in real life, a man called Kahler was an associate of Doctor Mengele (erm, Spoilers, I suppose) – although admittedly I am taking this information from the same site where a user asks if a barmaid is a woman or a whore, so I might be wrong.
And iPlayer crashed for the 4th time, so I have just heard "When Ah was a chaaaahhld…" for the 4th time.  *Breathes deeply*
The Doc (our one) is a fanboy, face lit up while Jex is expostitioning about his spaceship crashing, staying in the town and repaying them by saving the Stock Characters when cholera hit the town and inventing electricity for them.
And his ship is broken, but Fanboy Doc has the "simple plan" to sneak this lovely man out to the Tardis, or something.
Amy & Rory quite rightly point out is doomed to fail / not the way the show usually works / are still not happy about the way he leaves his dirty dishes on the formica instead of loading them into the dishwasher as they've reminded him about so many bloody times.
Also the Doctor is not Curious At All about the Weirdness of it All.  Oh and he is 1,200 years old (which might be of interest, if you're one of those people keeping a spreadsheet on the Doctor's timeline).
But how is he going to get past Arnie / the Gunslinger? The Doc reckons with a sleight of hand – I reckon he's going to wave the Sonic Screwdriver around, that usually works.
Amy & Rory's reaction?
Pretty sick to the back teeth of him.
I was being unfair, there's more to this plan than waving the Sonic around!
(MEN and their Sonics etc.), this is Doctor Who, so we get a load of RUNNING – namely Rory and the Marshall who are wearing Jex's clothes to cunningly divert Arnie.  Yeah, that will work on someone who has technology that does this…
…clever Terminator-style rip-off of assassin having data on potential targets.
Did he come up with this plan?
Meanwhile, back in the town, the Doctor gets to call a horse Susan (shout out to the geeks there) while Amy (conforming to the traditional gender roles of our patriarchal society, tsk), has been left behind while the men run around having adventures, sat in the jail with Jex. Significantly, he doesn't want to go home because he has "Given All That Was Good In Me".
After riding Susan (oh, that's why they did that), the Doctor comes across a mysterious cable.
Matt Smith, as ever "giving good face" as Madonna would say.  When he pulls at the cable, the lights in the town flicker in a sinister way and that nice Dr Jex gets a bit twitchy looking at the lightbulb…
….and I try to think up the best punchline to "How many Doctor Who fans does it take to fix a lightbulb"…any suggestions?
The cable leads the Doctor (being pursued by Arnie) to the spaceship – which, presumably because the budget has been blown on EasyJet tickets to Spain, looks like a massive tic-tac.
The Doctor sets off the ship's alarm that can be heard by everyone (a good old-fashioned sound effect) – and this is the only bit of the show my cat showed interest in (for the record, he enjoyed the Christmas special much more than us, probably because he'd been on the cat nip).
The Doctor gets in the spaceship – but it's about to self-destruct!
Obviously the Doctor isn't happy.
Anyway.  He doesn't self-destruct, thanks to some Sonic-waggling.  He actually breaks into the ship's computer and reads some stuff about Jex.  And is still not happy even though he hasn't self-destructed.
And – Oh Nos!
Jex, alerted by the alarm, isn't happy either that the Doctor hasn't followed the Plan (which I might not have explained very well earlier – but it definitely didn't involve breaking into Jex's tic-tac), because look what he's doing to Amy…
Peril. I hope there's a man on their way to rescue her!
But the Doctor is in equal danger from Arnie – who is about to shoot him…
…but he doesn't, because the Doctor rescues himself with Cleverness and Truth.
Somehow, Amy is saved from Jex (by MEN, obviously) and Jex tries to wriggle out of pulling a gun on her (just say she's a woman who led you on with her short skirt – right kids?) and now the Doctor is also back – and he is ANGRY.
The Doctor is actually more Angry than we've ever seen him.
Jex thinks he's a War Hero.
However, the Doctor thinks he's a War Criminal, a Liar and a Murderer. He's basically an evil doctor in the mould of Josef Mengele – specifically creating cyborgs from humans to use as weapons.    And Arnie is a rogue Cyborg hunting down the team that created them, which is what the pre-credits sequence was about.
If you don't think by now that Jex is a thoroughly bad man – then there's something wrong with you.  Oh, except he did save the Stock Characters from cholera and invent electricity for them and it was Wartime when everyone's moral compass goes pear-shaped…
Oh dear…conflicted….anyway, the take home is that the Doctor is Angry, but the Marshall is Loyal to this man who has done so much for the town.
Amy & Rory? They're arguing because Rory is suddenly taking the Doctor's side, he's changed his tune a bit since all his moaning about the Doctor leaving wet towels on the bathroom floor for someone else to pick up.
The Doctor is going a bit mental angry at the moment, he drags Jex over the line outside the town to execute him with a GUN as all the Stock Characters watch.
And he would have shot him we suppose if Amy (who is not just Clever, but Wise and Philosophical this week) didn't speak out with a passionate testimony about the Doctor's usual attitude to passing justice / voice the concerns of all the fans who were just about to start a thread on Gallifrey Base about how "It's uncharacteristic for the Doctor to use a gun! He's acting like River that bitch".
 First Amy pulls a gun on the Doctor (and accidentally nearly shoots the Stock Characters because durrr she's a girl and girl's are no good with guns) and tells him that he's "obviously been taking stupid lessons since we last met".
He can't shoot Jex because "that's not how we roll", says Amy. The music swells and he calls her Amelia Pond as Amy wins the argument.
Ah, sweet.
Now – plot stuff is still happening, but this is the keynote scene of the episode, so here are the Cliff's Notes.
1) The Doctor is sick of showing mercy because that causes the Daleks and the Master and the Cybermen to all keep coming back and he can't stand the horror and the victims any more.
2) He needs his companions to ground him and remind him that mercy is good.
3) He's been getting less merciful since he last saw Amy.
4) He has been travelling alone, so it seems.
OK – got that?
Right back to the Plot – remember Arnie?  He's been watching all this and up he comes to execute Jex, telling him to make peace with his Gods.  But the Marshall is Loyal and pushes him out of the way….
…taking the lethal blow instead.
But before he dies he makes the Doctor promise to stay and protect the town and Jex.Then he dies.
And it's getting worse, because Arnie will kill all the Stock Characters if they don't hand over Jex.
"Bugger". thinks the Doctor who is the new Marshall….and he makes Amy his Deputy (just so the writers can defend themselves against charges of sexism / give Rory the chance to pull that sarcastic whiney face).
Then it's night-time – and we get some Stock Western Character cliche scenes where the locals don't respect the Doc's authoritah! Such as the young lad who tries to play a fastest finger wins game and we're reminded that this is 10 years after the American Civil War and mmmm War is bad mmmkay.  Sorry I went a bit South Park there, but hell, this bit is tedious on replay. And still the Barmaid/Woman/Whore/River look-a-like doesn't get to speak!
Jex is back in jail and the Undertaker makes us LOL by being supportive then…
…pointing out how important it is not to put Tweed jackets in the washing machine, they're dry clean only – look this one has shrunk 3 inches.
Jex is all Hannibal Lector to the Doctor's Clarice, trying to befuddle the Doc by acting Remorseful and saying the Doc can't compute that he's both a Bad Man and a Scientist.
But the Doctor is still Angry. And blah blah blah, hannibals Jex, the souls of the people I destroyed will haunt me after I die, well all carry our prisons with us blether blether.
Long story short – the Doctor now has an idea!  Will this be the bit where he waves the Sonic around and it fixes everything?
I'd love to tell you, but iPlayer crashed again.
"When ah was a chile…" ggrrrrrrrrrrrr
High Noon
Nice shot that, yeah?  The whole episode is beautifully directed.
It's the deadline for Jex to be handed over to Arnie.
While the Stock Characters huddle in the church and the Saloon, the Doctor has a classic face-off with Arnie.
But instead of shooting him, the Doctor pulls out his Sonic! And does something Sonicky, I'm not sure what, but it's loud.
And it all goes a bit Whacky Races at this point.  Jex is running off and everyone else is wearing Jex face make-up to fool Arnie which…
…obviously isn't working that well, but I guess it's providing a distraction. And it looks good.
Arnie works out it's a trick so he goes round the town scaring the men, women and chirruns (excellent screaming from all the women, shame there's no dialogue for any of them, you MISOGYNIST writers).
Mind you, he is very scary, especially if you're living in 1870s America and have never seen sci-fi before. And especially as they don't know that he's programmed not to kill innocents.  (Except of course, we've now passed the deadline after which he said he was going to kill everyone, Oh, I'm confused).
The point is – he doesn't kill this Amelia Pond-like child.
While this is all happening, Jex has found his spaceship, oh I do hope he can remember the password…
… somehow the ship is able to beam a message to Arnie back in town, hunting down the Doctor.
Jex starts asking Arnie where he's from and I'm with the Doctor when he says "You're asking that now?" because I frankly don't care any more and we're so obviously hurtling towards denouement….
…remember when the Doctor broke into the spaceship and he had to Sonic it to stop it from self-destructing?  Yeah, Jex basically blows himself up, because there's nowhere else for the plot to go / it was his arc to behave with honour.
Wow, we're nearly done!  Arnie can't go back to where he is from because he's different and all that now (which might be foreshadowing the future companions departing, but that's just a guess).
The Doctor says goodbye to the Stock Characters. Well, not all of them…
…these two just hang around silently gawping because they are WOMEN and literally the only women that speak in this episode are Amy, the Barmaid/Woman/Whore/River look-a-like and the Narrator.  I started this Angry Feminism as a joke, but seriously…write some lines for actresses occasionally will you guys!
Then the Tardis de-materialises with this iconic shot.
With the narrator (who appears to be the descendent of the adorable Amelia-ette from the church) tying everything up for us "Wheyyer he cayem frawm doesn't matter…." etc. etc.
YEAY, I think.
The town of Mercy doesn't have conventional law enforcement, or a judicial set-up, it has…
…a Cyborg keeping everyone in line instead!  (Tries to think up a gag relating to Arnold Schwarzenegger as Governor of California. Fails)
Ah well, it looked great and next week's looks even better…see you next time.